The Offices will be closed the week of Thanksgiving (November 22-26). All weekday programming will also be off during this holiday week.
If you have a pastoral emergency, please email Fr. Ram at rlopez@saintgeorgechurch.org.
For non-emergency pastoral care, please email stgeorge@saintgeorgechurch.org, and someone will follow up with you.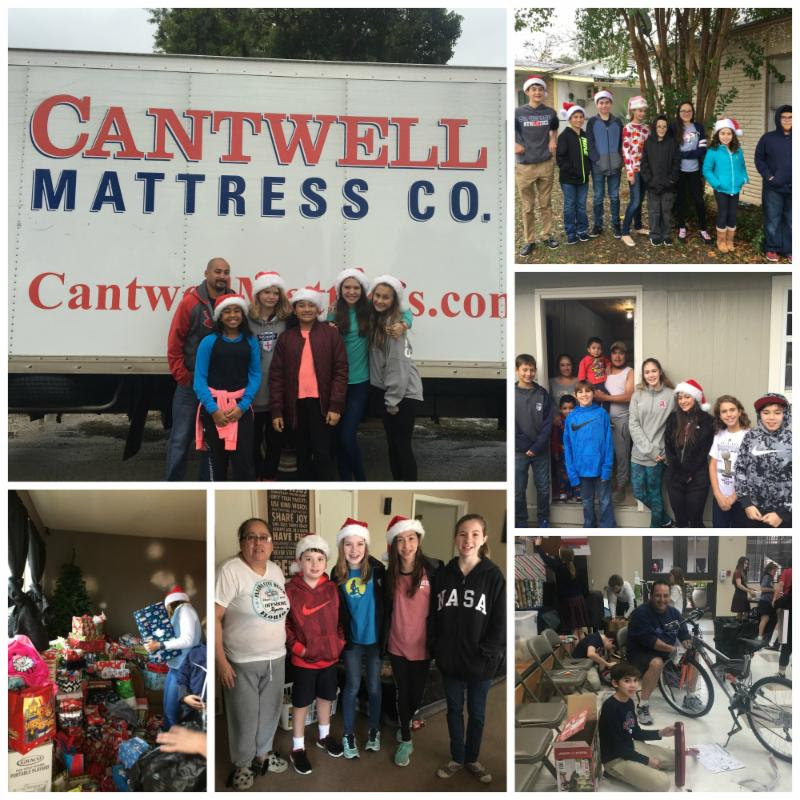 The Adopt A Needy Family (AANF) program is a San Antonio-based charity that matches organizations with families in the community who need basic necessities and a little holiday cheer. For over 15 years, the St. George community, through our middle school service organization, the Beta Club, has participated in this Christmas gift-giving project. This year, we have adopted nine families with the goal of providing a few special gifts and items of true need. Many of the gift items are necessities such as clothing, hygiene items, linens, housewares, space heaters and cleaning supplies.
Similarly to last year, the ornaments will be distributed electronically via a link available Thursday, November 11th. Please choose as many gifts as you wish to buy. Participation in the AANF program is strictly voluntary. However, AANF is a wonderful opportunity for St. George to give back as a community, and we hope that you will prayerfully consider participation.
In addition to gift sponsorship, Beta Club would greatly appreciate donations of tissue paper, pre-made bows and Christmas wrapping paper so that the gifts can be wrapped. If you are interested in making a monetary donation in support of larger needs, you can easily do so through a link that will also be available starting November 11th.
If you have any questions, please contact the AANF Coordinators at aanfstgeorge@gmail.com.
We wish you a blessed holiday season!
Your 2021 AANF Coordinators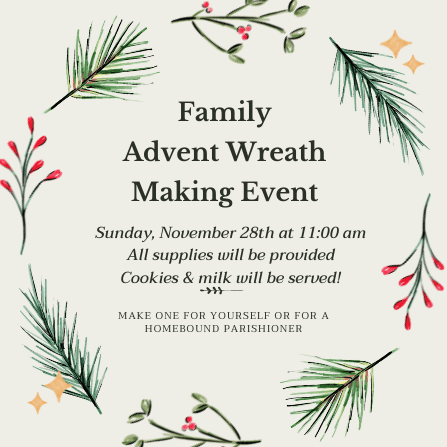 Come and join us for some family fun time as we make Advent wreaths! If you already have a wreath that you use, come and make one for a homebound parishioner! Supplies will be provided and Cookies & Milk will be served!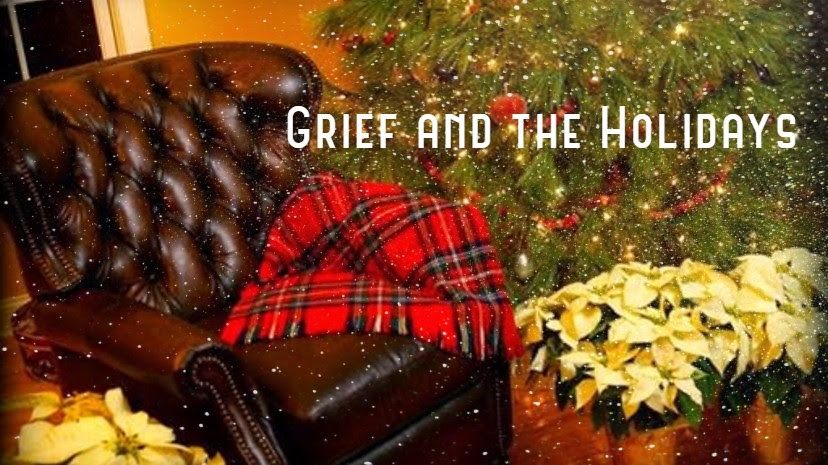 In a matter of days, we will be in the "Holiday Season."
For many, this is a much-anticipated time with family and friends.
But for others, the holidays bring a reopening of deep grief brought about as the result of the death of a loved one.
If you are grieving the loss of a loved one and find yourself in need of a way to move through the holidays, you are encouraged to consider one of the following "grief and the holidays" workshops.
One workshop, entitled Healing Holidays – Making Your Grief Count, is offered in-person at various locations on various dates by Porter Loring Mortuaries and Cremation Services.  Click here for the dates and locations of the workshops.
A second workshop is offered by Pathways to Promise, a nationally recognized organization whose mission is to connect "mental health, faith, and culture." This online workshop will be led by Deacon Ed Shoener, a Roman Catholic Deacon who is a noted author and leader in Catholic mental health ministries. His topic is Grief and the Holidays and the workshop is to be held on Wednesday, November 10th from 10:30 – 11:30 CDT. To read more and to register for this workshop, please click here.
If you or any of your loved ones are struggling with grief, please consider one of these workshops. And, should you find yourself in a seemingly endless cycle of struggle, please reach out to Rev. Susan, Taylor Brown, or me. We have resources available to help you.
Making a Meaningful Life With God
What is the meaning of life?
What can I do for God?
How can I serve God?
Why is church so important?
How can St. George help me grow in my faith?
How can St. George help me raise my family?
How can I learn more about St. George?
When we are new to anything we undoubtedly have many questions. The same is true when we join a community of faith.
Whether you are new to St. George and/or the Episcopal Church, this adult class is designed to answer your questions. All questions are welcome. No question is off-limits.
Join Fr. Ram and Rev. Susan on Sunday mornings to begin to explore your own questions and listen to the answers to the questions of others new to St. George.
This class is designed especially for those who are new to the St. George Community and to the Episcopal Church. Classes begin this Sunday at 9:00 AM.
Details
Location: St. John Meeting Room (Leadership Center, upstairs)
Time: 9:00 AM

Our beautiful altar flowers are back! Use the form linked here to make an altar flower offering in memory of or in thanksgiving for a loved one or multiple loved ones or in honor of birthdays or anniversaries. Donations can be made online or by check. Please designate "Altar Flowers" in the memo! The cost of flower arrangements is $45 per side of the altar, $90 for both. You may donate towards one or both of the flower arrangements.  If you have any questions, please email Keith Earle at kearle@saintgeorgechurch.org.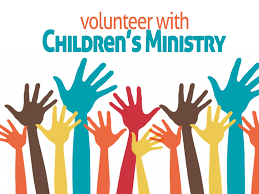 Starting September 12, Children's Chapel will be back on Sunday mornings, during the 10:00 am Worship service! We need volunteers to help with this ministry! There are opportunities for all, whether you wish to serve one Sunday or several Sundays a month! We invite anyone new to children's ministry or seasoned volunteers, parents, grandparents, or empty-nesters, to give of their time to the littlest ones of our church and be a part of this wonderful ministry. Contact Happy Wilson at hwilson@saintgeorechurch.org and say YES to our next generation!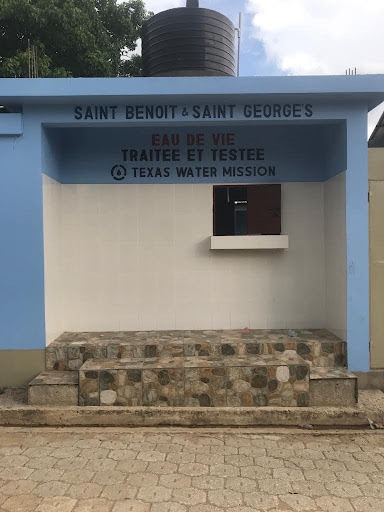 Some of our Saint George staff had a great time attending the annual fundraising dinner of the Texas Water Mission that took place last Tuesday, September 28th at the Whitley Theological Center. One of the projects highlighted was the water project at St. Benoit in Mombin Crochu, Haiti. Over the last couple of years, they have done some amazing work!
A cistern holding 22,000 gallons of water now serves the entire population of Mombin Crochu. The same water system serves both the church and school. Residents are able to come and fill up jugs of water and feel safe knowing the water has been tested and treated (as it says on the building). This project is the result of a continued outstanding partnership between St George, Texas Water Mission, and St Benoit. Thanks so much for your support for our friends in Haiti!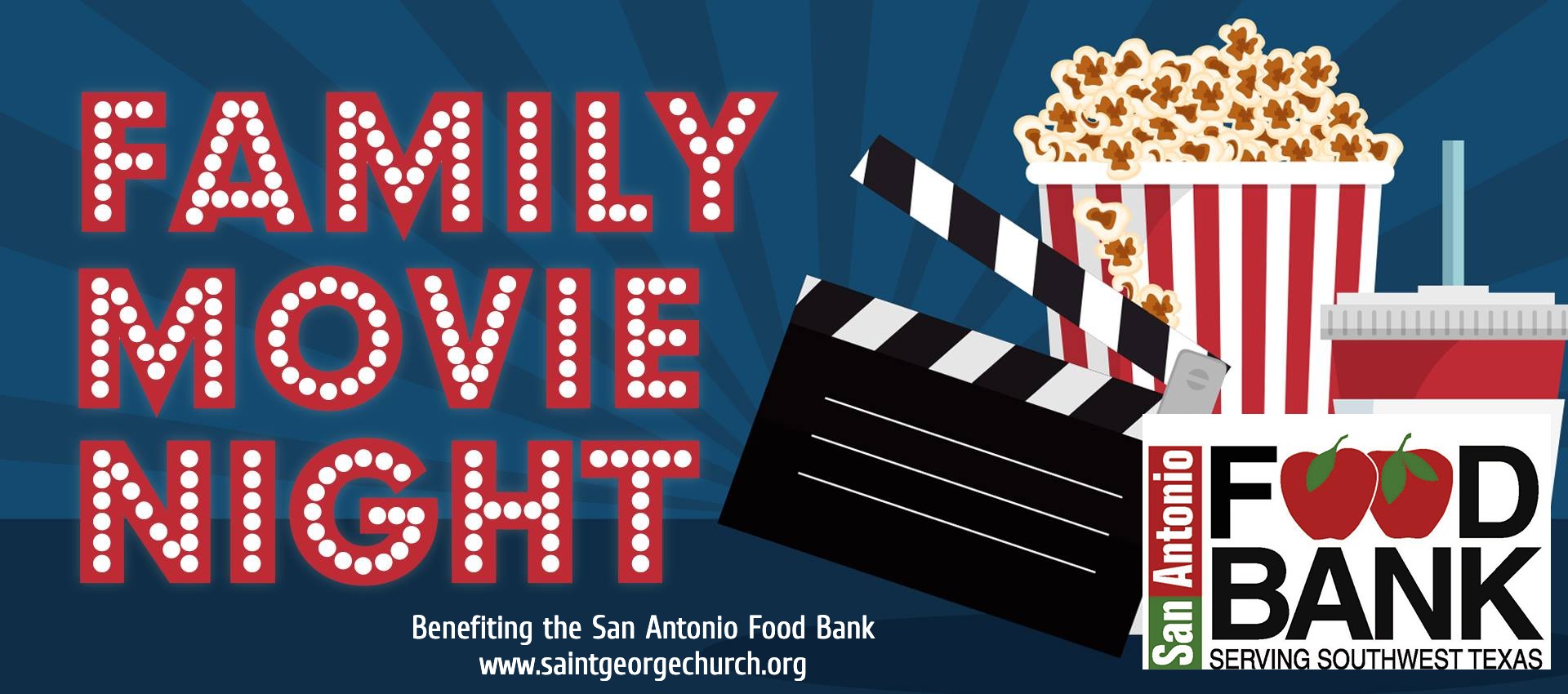 Come join us for a movie night under the stars. Except it will be in the gym because…mosquitos (and air conditioning). See details below. Please make sure to RSVP so that we can have enough broccoli chocolate. This family event is benefiting the Convening of Churches Backpack and School Supply event for our local schools. Monetary donations only at this time. Donations can be made by clicking here. Select "Backpacks" as the giving category.
Please bring your own chairs and blankets. All are welcome!
Movie: The Emperor's New Groove
Date/Time: Friday, July 30 @ 7:00 PM
Location: Gym
Snacks: Popcorn Bar with allllll the goodies and water