Our Rector – Fr. Ramiro (Ram) E. Lopez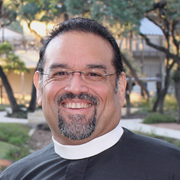 I am happy to be serving as Rector at St. George during this wonderful time in our history. I have a strong passion to help all people, especially our children, to come to know and love the Lord and to grow into the fullness of God.
---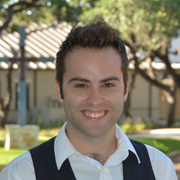 Senior Director
I am so blessed to be serving as the Senior Director for the church and I am humbled to be so privileged to watch this place grow as I have spent many years in ministry here. My wife, Shannon and I were first introduced to the St. George community in 2009 when I became the music teacher at the school. Since then our love for this special place has only grown. We have two daughters, Lillian and Scarlett, who are growing up with a strong faith foundation on this Christ-centered campus. Whether through the church or the school, our family is deeply involved in the St. George mission and ministry. As Director of Music & Fine Arts for the school, I get the privilege of shaping and teaching the beautiful young minds of tomorrow.  With a fantastic team there that includes Shannon, we have the pleasure of seeing our students reach their artistic and musical potential. As the Senior Director for the church, I am honored to lead the many wonderful teams of believers that faithfully give of their time and talents every week in order to serve this place we love so much. I love working to find a team or service that helps people use their time and talents for God's glory.  I am honored to also partner with Fr. Ram in furthering the mission and vision of St. George and its impact on the community. Among the various areas I serve on campus, I also co-lead our school's Beta Club, which is a service and outreach honor club that leads many campus service projects. I am also the lead for our Haitian sister church and school partnership and I am also one of the directors of our school's middle school musical.  I have a Bachelor of Music Degree from UTSA and have spent over 19 years in music and ministry. I have spent time leading worship in several different denominations and worship styles including gospel and contemporary. My heart is at home here in the Episcopal tradition, as the liturgy truly speaks to me. I am always looking for ways to spread the gift of the arts here at St. George whether through our on-campus programs or through community opportunities.  If you are feeling called to serve and offer your talents here at St. George, or if you want to know how the many programs and ministries of St. George can make an impact in the life of you or your family, feel free to give me a call or write an email.  Let's see where God is leading you to make an impact on the world!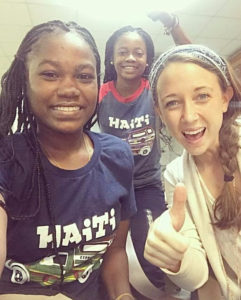 Director of Campus & Youth Ministries/Marketing
I am so excited to be joining the St. George Episcopal Church and School family! I grew up in San Antonio and in the Diocese of West Texas. I have a deep love and passion for the Episcopal Church and the welcoming nature of who we are as a church. I am especially passionate about providing kids with a safe and fun place to learn more about the Bible, our relationship with Our Creator and how to extend that love out to others.
I attended the University of Mississippi and received a Bachelor's Degree in Elementary Education with two minors in History and English. I also received my Master's Degree at Ole Miss in Curriculum and Instruction. I had my first teaching job in the Delta region of Mississippi and worked at the University as a recruiter for the School of Education. After my time in Mississippi, I sold my belongings and moved to a country I had recently fallen in love with—Haiti.
While in Haiti, I helped develop an ESL program and curriculum for a school in Gressier, Ouest, Haiti. I also received guardianship of two beautiful girls – Robi and Sherly. I spent three beautiful years in Haiti and just recently moved back to San Antonio this past spring. Robi and Sherly received academic scholarships to TMI- The Episcopal School of Texas and have just recently started their freshman and sophomore years.
I am beyond excited to be able to share my experiences with your community as well as the faithfulness of God that I have personally seen over and over again. I cannot wait to bring my passion and love for the Bible and our world into the classroom and share it with many of your children. I have high hopes for this school year and look forward to meeting you all!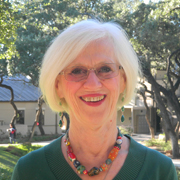 Director of Pastoral Care
My husband, Milt and I came to San Antonio in 1982 along with our 2 children, Aaron and Alexis. We began our search for a church home in the fall and the first (and only) church we visited was St. George. In the fall of 1985 I was asked to consider taking the position of Parish Secretary to replace the lady who was retiring. I began January 2nd 1986 and worked in that position until 1990 when I became the Parish Administrator. In 2013 I took the position of Director of Lay Ministry Development, and then in September 2014 I was asked to take the position of Pastoral Care Coordinator. My work history includes being a Registered Nurse for 12 years, so I believe the Lord has placed me where He wants me to serve and I am truly blessed.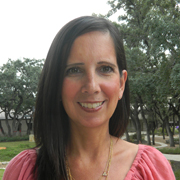 Director of Family Ministries
My husband, Bart Wilson, and I have been a part of the St. George family for 18 years.  We have 12 yr. old twins, Sophie and Sully, who are in the 6th grade and attend St. George School.  Together we have been active members in the St. George community. In 2011, I began working part-time for St. George Church as the Children & Family Ministries Coordinator.  I strive to provide a high quality ministry that is attractive to the children and the parents of St. George Church.  I coordinate and oversee our popular C 3:16 family formation class, our Children's Chapel programs, the Kids for Christ (KFC) 3rd-5th grade ministry group, Vacation Bible School, and some of our annual Family Fellowship events including the Pancake Supper, the Epiphany Pageant, Polar Express and our Trunk or Treat. When I'm not working at the church, you can find me volunteering at many of the St. George school functions as a PTO board member, or cheering my children on at their team events.  I earned my Bachelor degree from Texas A&M University in College Station and I love my Aggies!  My family and I enjoy attending the Aggie sports games, hiking, traveling and spending time with family in Port Aransas.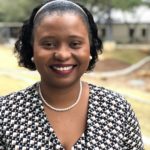 Director of Music Ministry
My love story with St. George started in November 2010 when the community of St. George opened their arms and door to host the Holy Trinity Boys choir and Chamber Ensemble to  perform at the Church. I was amazed by this strong bond which had been established so quick between the haitian singers and musicians and the people of St. George. It was a week of sharing, love, kindness and love again. Because of this, I did not hesitate to jump at this opportunity to join the staff of St. George Episcopal Church and School as Director of Music Ministry last March 1st of 2018. It is due to God's call  that my 4 years old son Ben and I are ready to follow his instructions wherever he sends us. St. George is the home that God has chosen for us. I have spent my whole life working in the church.  I began my work for the Episcopal Church in the Diocese of Haiti since 2002 as music librarian, accountant and executive Manager of the Holy Trinity Music School. I have always considered myself a seed (product) of the Episcopalian mission through the Diocesan education program.  I attended the Holy Trinity Episcopal elementary school, Saint Pierre Episcopal High School and Episcopal University in Port au Prince Haiti where I earned two majors in Business Management and accounting. I started to play the cello in 1991 and became among the youngest members of the Holy Trinity Philharmonic orchestra in 1997. I received a certificate in music Pedagogy for teaching string instruments from the Holy Trinity Music School in partnership with Lawrence University. I have conducted several string orchestras and the " beginner parents orchestra", which is so fun!! Through coordinating the annual concert series of the Holy Trinity Philharmonic orchestra and the annual tour of the boys choir, I have discovered my love for the performance of arts and to further that love I attended a 3 months internship at the Kennedy Center in Washington DC in 2012. It is a such an honor to join the amazing team of  talented musicians of the Music Ministry here at St. George! To me, they have the magic to help transform our worship into a heavenly sound by singing with such passion the contemporary and more traditional music. I'm available for all kinds of crazy musical adventures, just reach out to me!! If you wish  to do any instrumental offerings, please come knock on my door and let's worship our God through music. If you want to experience love, kindness and generosity we are waiting for you here at St. George.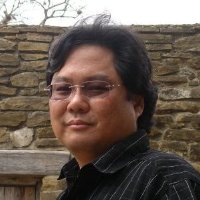 Facilities Manager
I have spent practically all my life in the great city of San Antonio. My wife Angela and I have been married for over 31 years and have been blessed with two wonderful children, Samantha and Alexander.
Angela has been with USAA for over 36 years and is an AVP at USAA.
Samantha is a junior at Texas State majoring in Business and Marketing while Alex is a senior at Antonian with aspirations of going into Cyber Security.
My career started when I began repairing office equipment for Pitney Bowes but soon moved up to assistant service  manager with Felco Office Systems.
Later I decided to enter the medical field with GE Medical Systems as an X-ray Service Engineer. I then advanced to become their account liaison for the Methodist Hospital System and remained there for several years.
I left GE Medical to become the Radiology Project Manager for South Texas Radiology Imaging Centers, overseeing all of their imaging centers and managing their medical imaging equipment and contracts
I left that hectic life to start my own project management company and was blessed with the opportunity to become the Project Manager for the Seeds of the Future Project here at St. George.  That role allowed me to form a bond with the church and school and help them make their dream a reality. It was so enjoyable to be able to help guide the process which resulted in the beautiful campus we have today. It was the most fulfilling moment of my professional career. Unfortunately it was also one of my saddest when the project was completed.
I then worked several months in California as the General Manager for Medical Imaging and Bio Medical at Keck Hospital at USC until the contract was complete.  Shortly after returning from California I received a call asking if I would be interested in returning to St. George, which I happily accepted.
I feel the good Lord has a new chapter in store for me, and it begins here at St. George.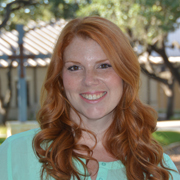 Assistant Director of Music Ministry
St. George is our home. My husband, Keith Earle, our two beautiful daughters Lillian and Scarlett, and I have been a part of the St. George community since 2009, when Keith became one of the music teachers at St. George school and I became the private voice instructor on campus. Our love and involvement for this community only flourished in the following years, as I became the JK – 1st grade Spanish teacher and JK and SK music teacher at the school, and as Keith and I became part of the Music Ministry team here at the church. We are truly blessed to have the privilege to work for both Church and School at such a wonderful and loving place! I am a classically trained singer and perform around Texas. I also sing with the "Oh So Good Band" and play the flute. In addition to my musical pursuits, I am also a licensed cosmetologist. Keith, Lillian, Scarlett and I love playing in the backyard on our trampoline and having fun family movie nights.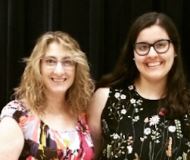 Nursery Coordinator
I am excited to take on a new role at St George Episcopal Church as the new Nursery Coordinator, having worked in the nursery on and off for many years. Some of you may know me as "Nurse Kim", former school nurse at St George. For those that do not, I am an RN and worked as the school nurse here for several years. I am now employed with Humana fulltime and Methodist Hospital on a very part-time basis. I have been married to Jeff for 18 years. He is a perfusionist (operates the heart- lung bypass machine during heart surgeries) at University Medical Center in Lubbock. My oldest son is Casey, a shift manager with HEB curbside. Piper is 17 and will be a senior this year at North East School of the Arts, a magnet program on the campus of LEE High School. She also helps out in the nursery as needed. Jake will be a sophomore at Health Careers High School, another magnet program here in San Antonio. Both Piper and Jake are St. George graduates, so I have been part of the community for over 10 years. I count myself very lucky to remain involved with the St George community and absolutely love taking care of our little ones on Sunday morning!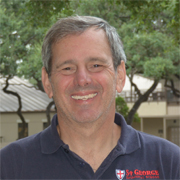 Sexton/Maintenance