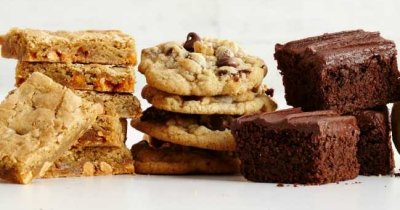 The Beta Club will host a special Treat Sale on Wednesday, April 17, during all lunches. We will be set up in the Gathering Area. Proceeds will benefit the Chain of Love campaign. Because most items are priced well under $1, there is no need to send large amounts of money with your child. Please encourage your child to eat his/her full lunch before purchasing at the Treat Sale.
Thank you to the Beta Club for supporting Chain of Love!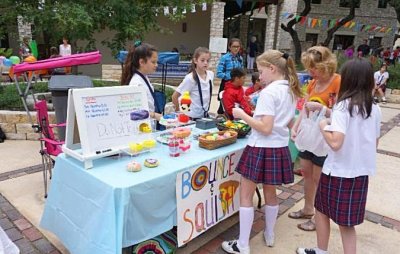 What is Le Marché?
Le Marché is an entrepreneurial event taking place on the St. George campus on Thursday, April 25, from 9:00 – 11:00 AM. For the past few months, every 4th-8th grader has been involved in gathering partners, forming businesses, attending conferences and study sessions, crafting business plans, proposals, and marketing tools, and most importantly, designing and producing products to showcase at Le Marché on April 25.
We will have more than 75 different booths selling amazing and unique products at Le Marché.
All profits from Le Marché will be donated to CHAIN OF LOVE.
More information on Le Marché will be sent out soon!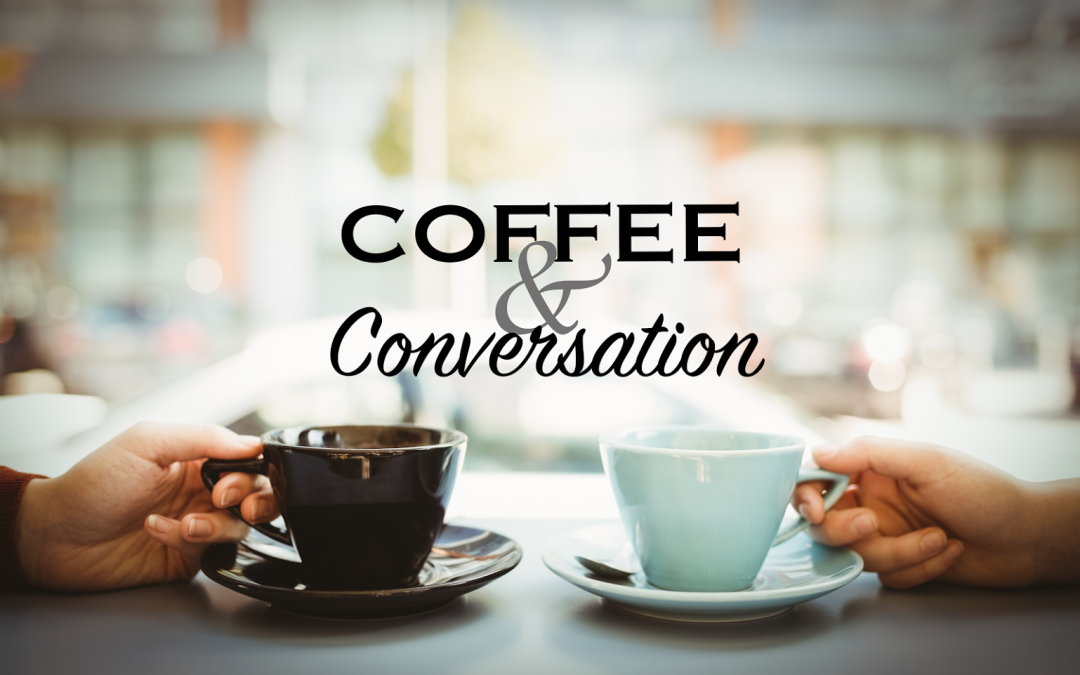 Dear Fellow Coffee & Conversation Participants –
A quick reminder: Because this coming Sunday is Easter, C&C participants will join the rest of the congregation in the brunch and other between-services activities rather than meeting in the Leadership Center. We will resume the normal schedule the following Sunday, 4/28/19.
Last Sunday we finished the questions for Chapter 3 in Max Lucado's book "Anxious for Nothing: Finding Calm in a Chaotic World." Max asks us to re-read the story of two trapeze artists in that chapter, where one is the "flyer" and the other is the "catcher." As you may recall, the catcher is solely responsible for the success of the act. The flyer just reaches out. If she or he tries to assist in the catch, there is more likely to be a disaster. Max makes the analogy between trapeze acts and God's "catching" us by His grace, while we rely solely on Him, not on our own efforts.
In the ensuing discussion, one member wondered how the Lord can have a "steady grip" while still greeting us with "open hands." Another remarked that they had to guard against "flabby faith." Yet another pointed out that we must not be hard on ourselves because we occasionally fail to measure up to all of the things we expect of ourselves. On the other hand, we cannot use the Lord's willingness to forgive us as an excuse for "running wild."
We also spent a bit of time addressing the first question on Chapter 4, page 168, where Max asks us to compare any feelings we may have of being "forgotten" with the way Joseph must have felt when he was abandoned by his family. We will continue this "conversation" at the next regular class meeting, 9:45 between services in St. Mark's Room, second floor in the Leadership Center, on Sunday, 4/28/19.
In Christ,
Peggy and Paul Foerster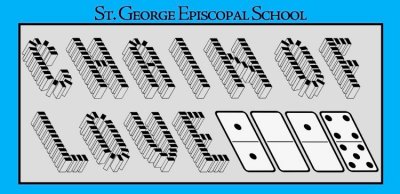 What is Chain of Love?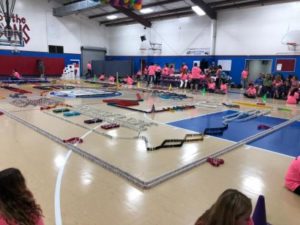 Chain of Love began 14 years ago as a way to demonstrate the impact our community was making on those around the world. Every dollar that is raised is represented by a domino that is then turned into a HUGE domino chain built by students. What started out as a chain of 3,500 dominoes has grown to over 24, 000! You have to see it to believe it! During all Church services yesterday and student chapels today, we talked about our impact on the St. Benoit Community, and how together we can make a difference!
This year our proceeds will go to support our sister school, St. Benoit in Mombin Crochu, Haiti. Our partnership with St. Benoit Church and School began in 2010, and over these 10 years we have seen tremendous growth in the area, and built a strong bond with them.
How can I "be a domino"?
You can support this year's Chain of Love by donating here online or during carpool. Team Domino Fundraising Team will be out at carpool each morning collecting dollars for dominoes. Join us in being a domino in our Chain of Love.
The dominoes will topple Monday, April 29, at 8:30 AM in the Lynd Gymnasium. Come on out to see this incredible event!
Chain of Love T-shirt and Free Dress Day
Chain of love shirts are available for purchase through DragonNet for $20. Purchase a shirt for your child and they can wear it to the domino topple on April 29 with jeans and athletic shoes. Let's turn the gym blue! The deadline to order shirts is Tuesday, April 16. This is a FIRM deadline. The shirt looks just like the logo at the top of the post.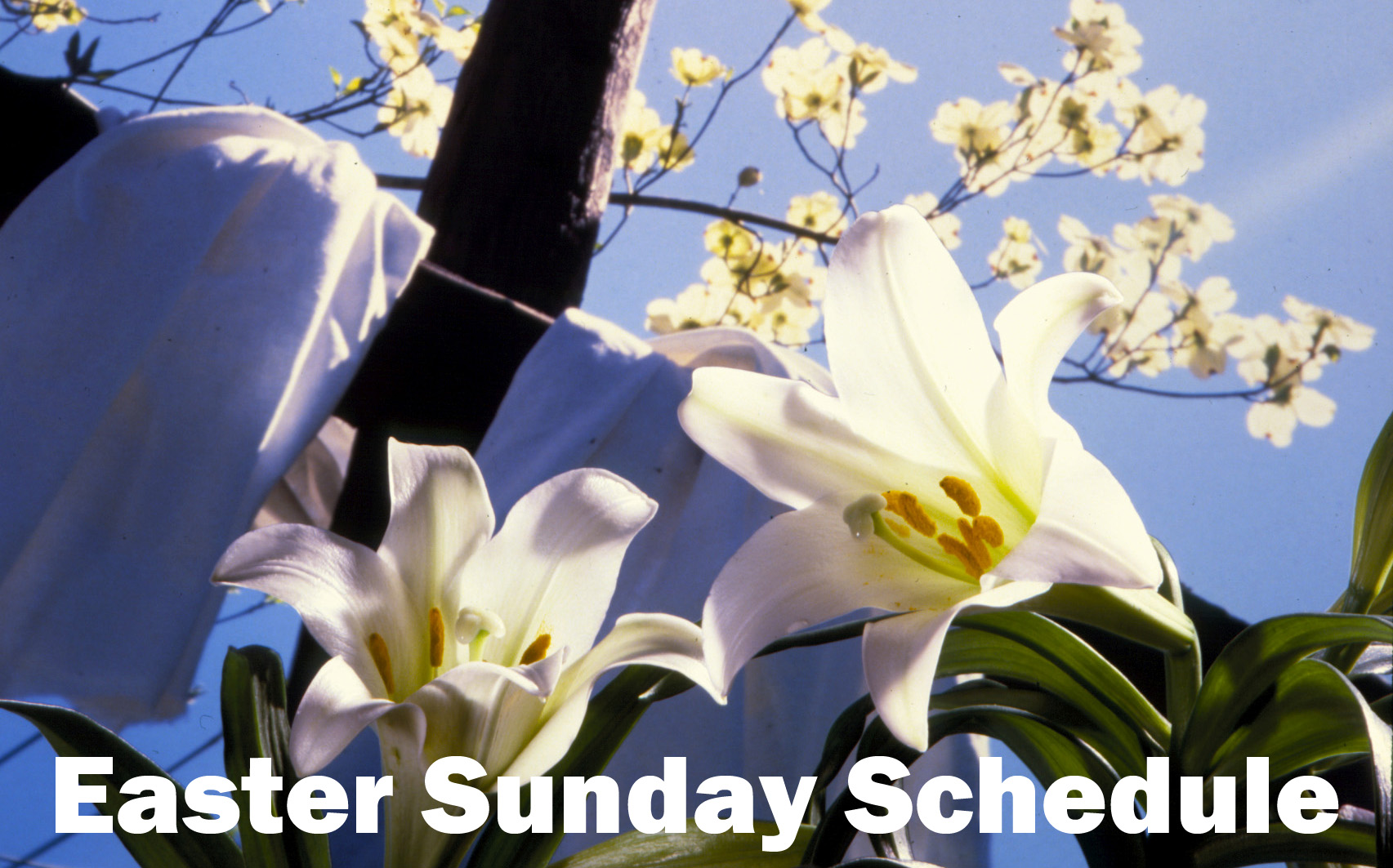 Services and Activities for Holy Week, Easter!
April 20 — Easter Eve Baptisms & Eucharist, Sanctuary, 5:00 PM
April 21 — Easter Sunday
— UTO Ingathering
— Worship Service, Sanctuary, 8:30 AM
— Easter Brunch, Fellowship Hall, 9:45 AM
— Easter Egg Hunt, 10:00 AM
— Flowering of the Cross, Narthex, 10:30 AM
— Worship Service, Sanctuary 10:45 AM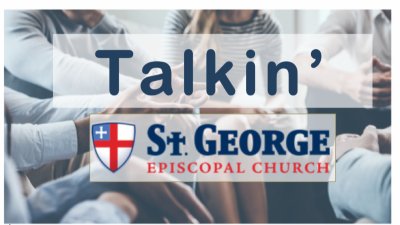 St John Room, Leadership Center
Schedule of Topics
4/14 and 4/21 – No class due to Palm Sunday and Easter activities
4/28 – Prayer and Worship: The Book of Common Prayer as a Spiritual Tool
5/5 – The Bible in 30 Minutes
5/12 – Q&A Time
5/19 – Meeting with Bishop Reed – Confirmation
Talkin' St. George will take a summer recess and will return on Sunday, September 8!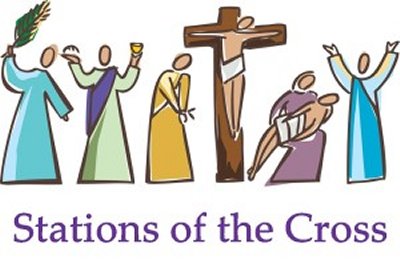 Fr. Ram will lead the next Stations of the Cross devotional walk on Good Friday, April 19, at 2:30 PM.
You are welcome to walk the Stations of the Cross individually or as a group of friends or family.
You may access the Stations of the Cross devotion book on your phone or tablet by clicking here.