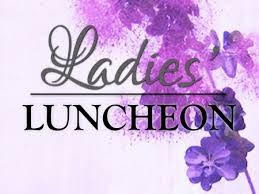 During each monthly Ladies Lunch gathering, they collect $1 per person. Alana Woods, who coordinates the lunch, reports that the group collected a total of $100.57. They chose to donate those funds to West Avenue Compassion which is located just down the road at San Antonio First Church on West Avenue.
When told about the donation, longtime St George member and WAC volunteer Linda Canas said, "This is amazing! I was sitting here thinking about the need." She recalled having received a text that 547 families had been served in one week. "It wasn't so long ago," she said, "that we were serving closer to 400 [families]."
"This is just so wonderful!"
For more information about the monthly Ladies Lunch Group, contact Alana Woods. If you would like more information about joining the St George contingent of weekly volunteers at West Avenue Compassion, contact Linda Canas.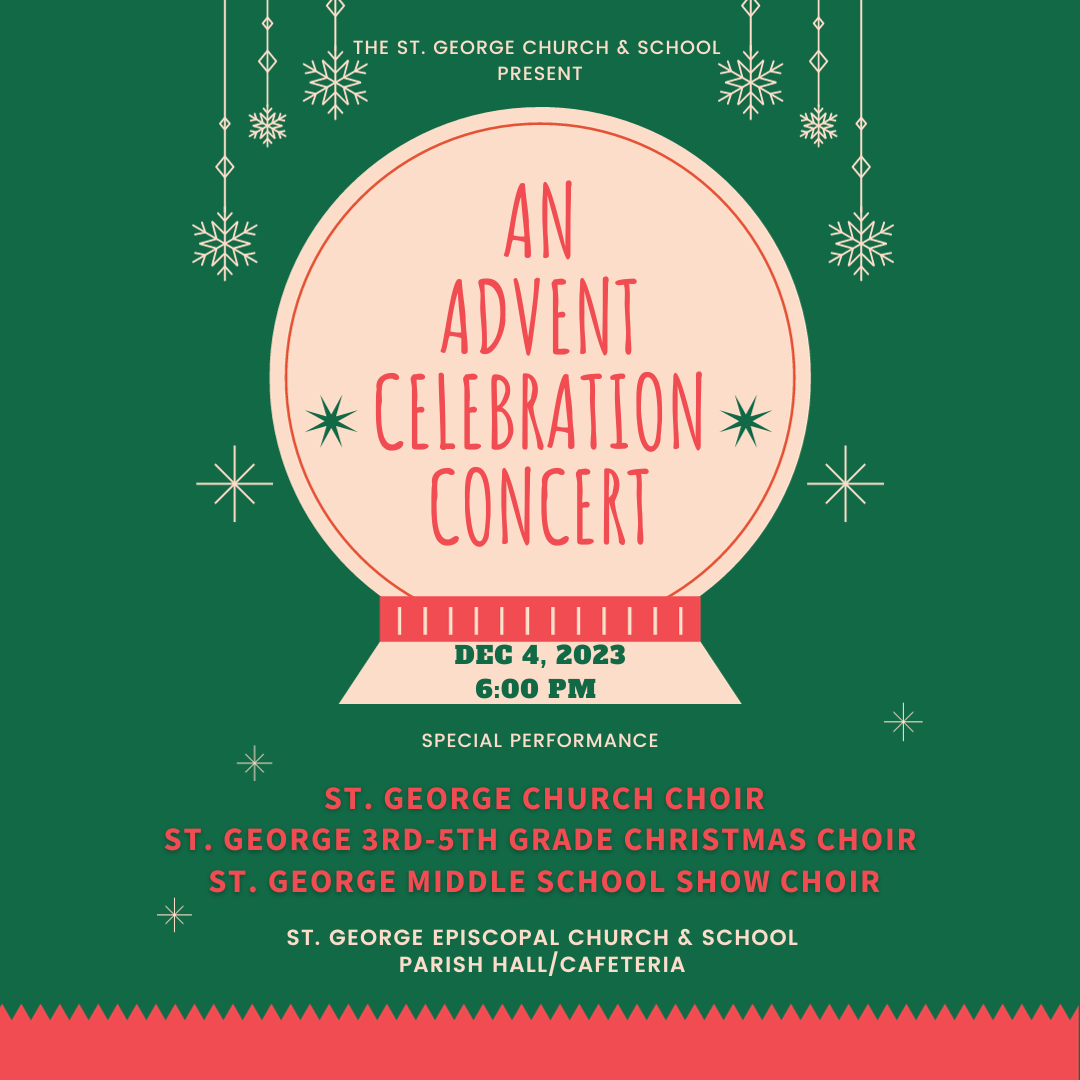 Monday, December 4th at 6:00 PM in the Parish Hall
Come join us in celebration with an evening of music, as our whole St. George Community welcomes in the season of Advent and Christmas! The St. George Church Choir, the St. George 3rd-5th Grade Christmas Choir, and the St. George Middle School Show Choir will all be giving some wonderful performances! This will truly be a wonderful way to welcome the season with joy, hope and above all, love! We hope to see you there!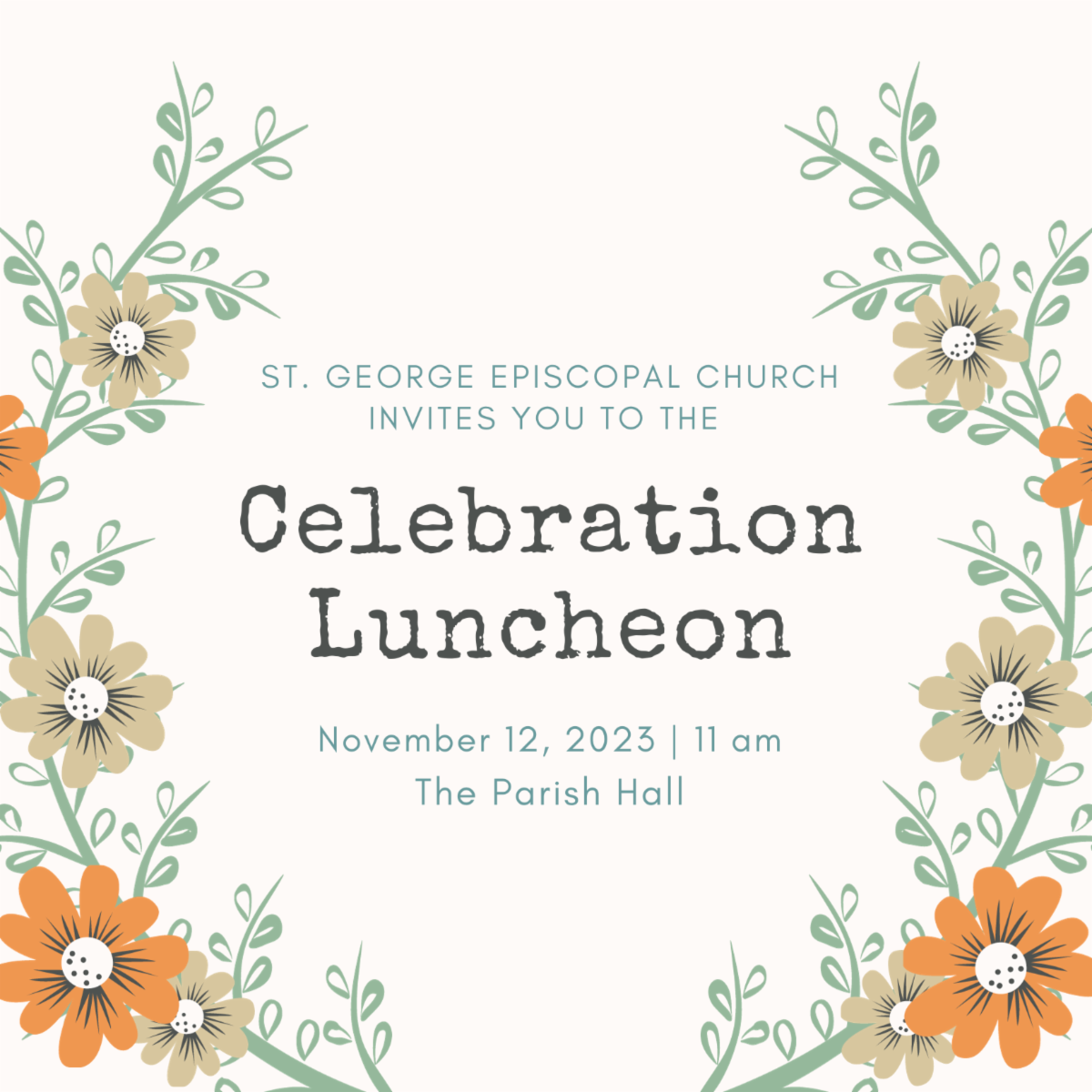 Because of God's love, we love and care for one another. Come celebrate with us this Sunday, November 12th at our catered luncheon from Panchito's. We'll celebrate the generosity of our Annual Gifts of Support that allow us to carry out God's life-giving work and make a positive impact in the church, school, local community and around the globe with delicious fajitas! Click the link below to RSVP.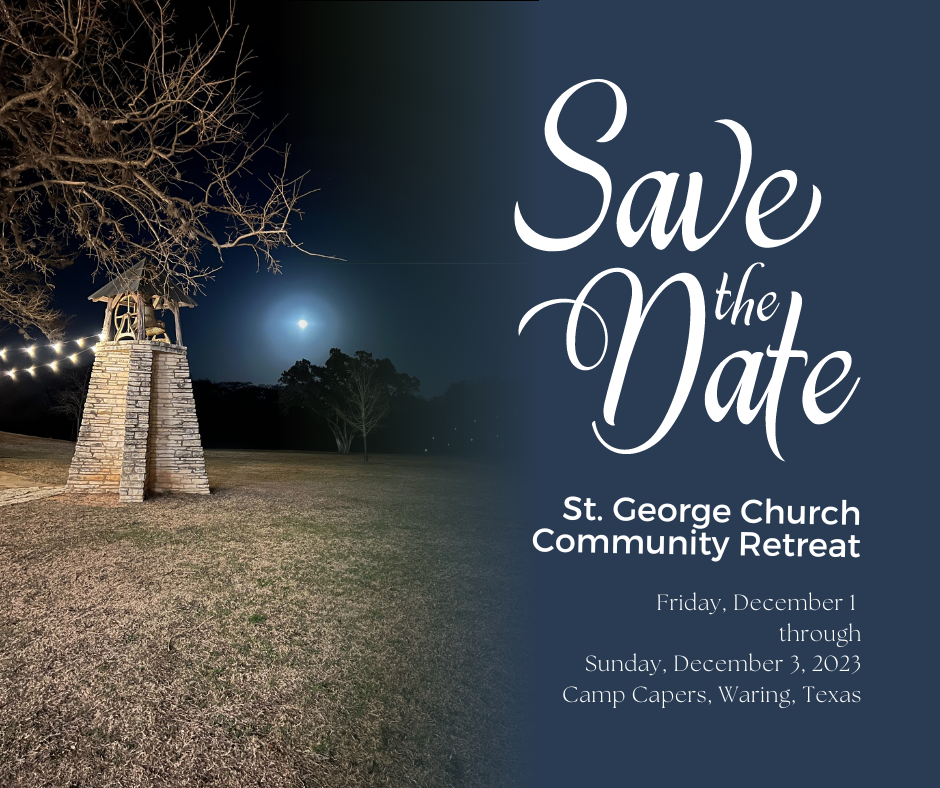 FRIDAY, December 1st – Sunday, December 3rd
St. George Community Retreat! It is time for St. George to spend time together at Camp Capers, our Diocesan Camp in the Hill Country, for a weekend of community building and spiritual refreshment.
More details soon!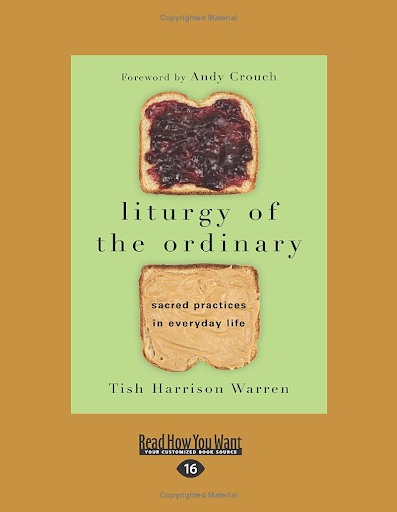 Every Sunday, 10/15 at 9:00 AM in the St. John's Room (Leadership Center, Second Floor)
Liturgy of the Ordinary: Sacred Practices in Everyday Life by Tish Harrison Warren
All "busy" adults are invited to attend the Breakfast Club on Sunday mornings at 9 AM. A special invitation goes out to all younger adults (with or without young children) and adults new to The Episcopal Church or St. George.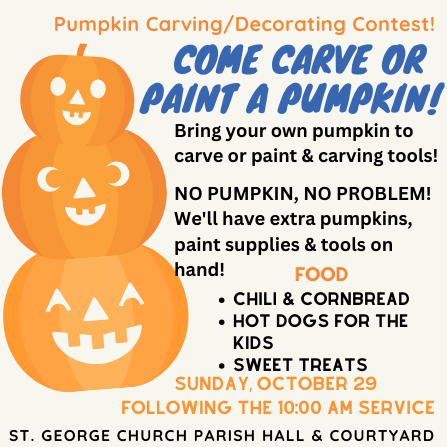 Following the 10:00 AM Service!
In the Parish Hall & Courtyard!
CASUAL DRESS SUNDAY!! KIDS WEAR YOUR COSTUMES!
Join us for our 2nd annual Chili Fest and Pumpkin Carving/Painting event! Bring a pumpkin and/or chili to share! And if you DARE…you can enter your pumpkin and/or chili in our contest! NO PUMPKIN, NO PROBLEM!! We'll have extra pumpkins, tools & paint supplies on hand! It'll be a fun time for ALL ages!!
Childcare will be available for our littles!
So we can plan accordingly, please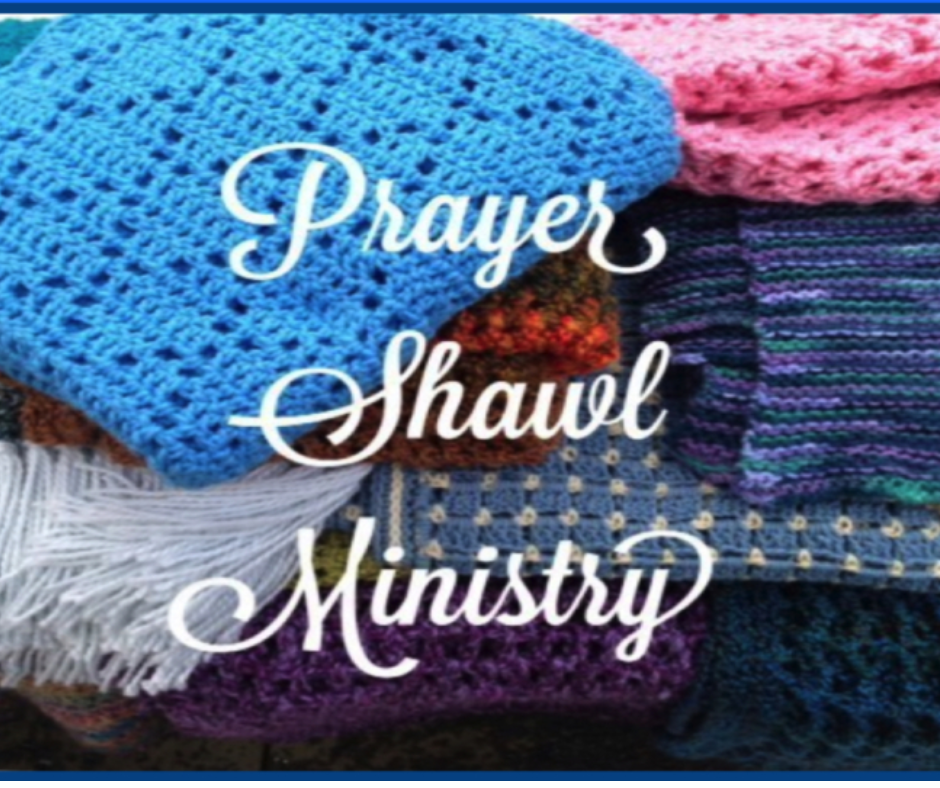 Knitters and Crocheters Needed!
Join our newly formed St. George Prayer Shawl Ministry. Enjoy an hour of praying, chatting, and creating. We meet every 2nd and 4th Wednesday at 9:30 AM in the Leadership Center.
If you want to learn to knit or crochet, someone will help you get started. The design and colors are your choice.
No need to RSVP, just show up!

"Forgiving Oneself"
October 13-15 at Mustang Island Conference Center
Spiritual Retreats in Recovery provides a safe place to deepen one's spiritual journey – open to all in recovery from alcoholism
or other abuses, as well as to families and friends affected by the disease of addiction. All members of twelve-step programs (AA, Al-anon, NA, CA, ACA, etc.) are welcome to share their experience, strength, and hope with each other in a community of love and support, exploring what it was like, what happened, and what we are like now.
Registration will open on September 5, 2023, at 10 AM. Please go to http://dwtx.org/events to register at that time. Space is limited.
Leaders: Rev. Keith Davis (Associate Rector, St. George Episcopal Church, San
Antonio) and Rev. Mikel Brightman (Rector, St. Phillip's Episcopal Church, San Antonio)