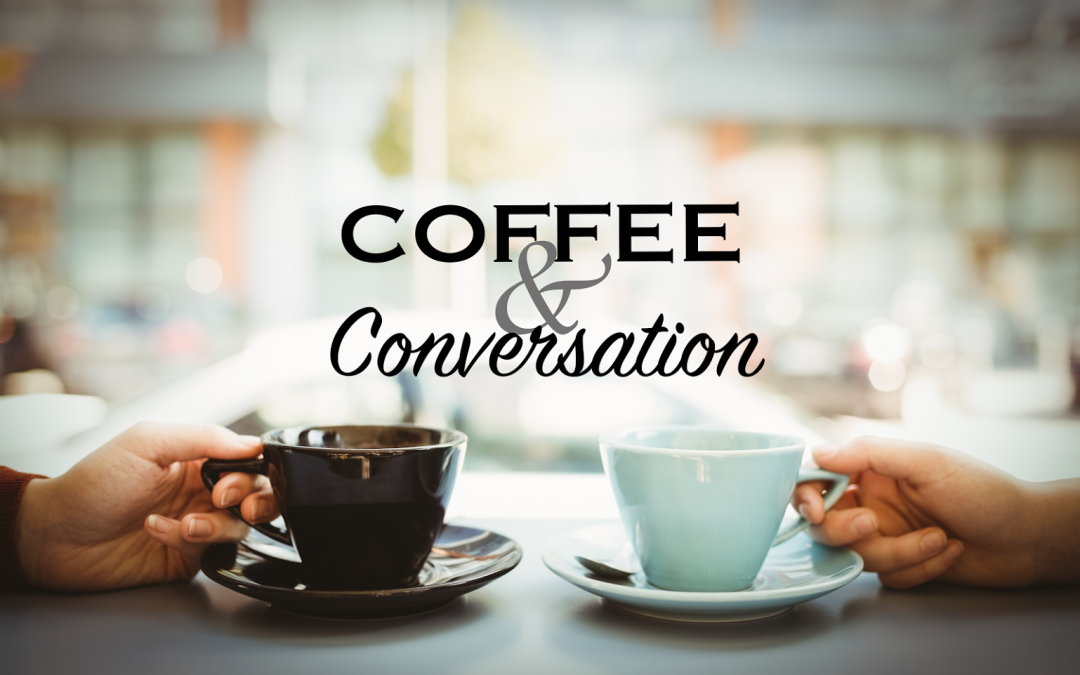 Last Sunday we finished discussing the questions on Chapter 6 ("Prayer, Not Despair") and started those on Chapter 7 ("Great Gratitude") in Max Lucado's book Anxious for Nothing: Finding Calm in a Chaotic World.
Class members liked particularly what Max asks us to do in Question 8 of Chapter 6, namely, to find, in our Bible reading, three of God's promises that "speak to you." One member remarked, "We can do that!"
The meditation concluding Chapter 6 is from Matthew 11:28-30, where Jesus says, "Come to me, all you who are weary and burdened, and I will give you rest. Take my yoke upon you and learn from me, for I am gentle and humble in heart, and you will find rest for your souls. For my yoke is easy and my burden is light."
In this passage, one member questioned why Jesus would want to increase our burden by yoking ourselves to him. Another recalled having heard that it means by yoking one's self to Jesus, He will help us bear our burdens.
This Sunday, 8/25/19, we will start with Question 3 on page 181. Hope you can join us and participate in the "conversation." Normal time and place, between services, (nominally starting at 9:45 a.m.) in St. Mark's Room upstairs in the Leadership Center.
In Christ,
Peggy & Paul Foerster
"Youth, Money, and Mission" is an annual conference to help inspire individuals and congregations with ideas to start, or sustain mission trips and partnerships at their church. Hosted by the diocesan World Mission Department, the symposium will take place on Saturday, August 24, from 9:30 -2:45 PM at the Bishop Jones Center, in San Antonio. Our very own Keith Earle will be speaking at this event! For more information and registration, visit dwtx.org/events.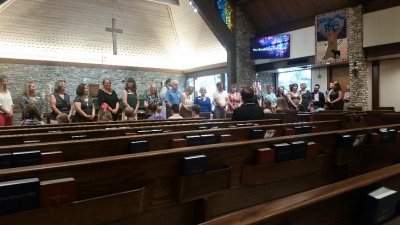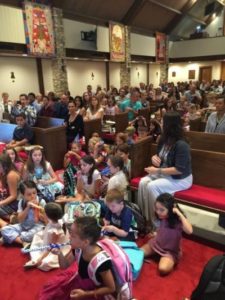 Blessing of the Backpacks and Teachers
Our annual Blessing of the Backpacks and Teachers will be Sunday, August 25 during both the 8:30 AM & 10:45 AM worship services. All students are encouraged to bring their backpacks and receive a blessing to start the school year off right. We also invite teachers to come and receive a blessing as they begin another year of teaching God's children!
Please join us after the 10:45 AM service for our Ice Cream Social in our newly renovated Parish Hall!
Annual Ice Cream Social
The fun continues after church – Join us for our annual Ice Cream Social on August 25 following our 10:45 AM worship service. Gather in joyous fellowship with family and friends from our Church and School as we celebrate the beginning of another wonderful year of teaching! If you are able to volunteer to help with clean up, please contact Happy Wilson – hwilson@saintgeorgechurch.org.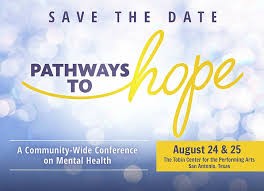 The "Pathways to Hope: Breaking the Stigma of Mental Illness" Conference is a free, community-wide conference on mental health, sponsored in part by the diocese and St. Mark's, San Antonio. The two-day conference will take place Friday, August 23, to Saturday, August 24 at the Tobin Center for the Performing Arts in San Antonio, and includes presentations, workshops, and a youth and family event taking place on Friday at 7:00 PM. To view the event flyer, click here. For more information, and registration, visit pathwaystohope.net.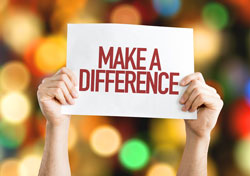 Each year the Willmann Trust Board offers grants to local ministries and non-profit organizations. In 2018, grants were awarded to the following ministries: Larkspur Elementary, West Avenue Compassion, Christian Assistance Ministries, Pay-It-Forward–Haven for Hope, and Magdalena House.
If your organization would like to apply for financial or other assistance from the Willmann Trust, please click here for our online application.
Requests are due by September 6, 2019 for Willmann Trust Board consideration at their next meeting.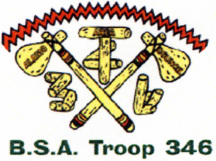 Boy Scouts of America Troop 346 50th Anniversary Celebration
Saturday, August 10, 2019
Harmony Hills Cabana Club
339 Fantasia Drive, San Antonio, Texas 78216
3:00 pm Fellowship — 5:30 Dinner — 6:30 Program
$5.00 – 10 & older • $2.00 – 3-9 years • Under 3 Free
For reservations, please send payment (checks payable to Troop 346) to
Ann Specht, 902 Mt. Serolod Dr., San Antonio, Texas 78213
Please send your email address to spxtx@aol.com for updates
RSVP is required by emailing jimbosa53@gmail.com.
You are welcome to join their Facebook page: Troop 346–San Antonio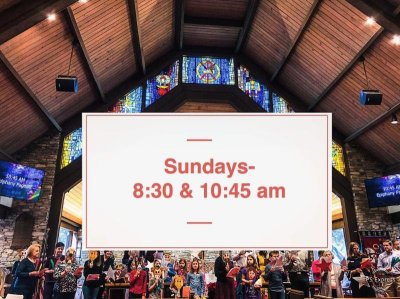 Worship 8:30 AM
Coffee and Conversation 9:45 AM
Understanding the Gospel 9:45 AM
Fun and the Son 9:45 AM
Tacos with Taylor 10:00 AM
Wired Word 10:00 AM
Worship 10:45 AM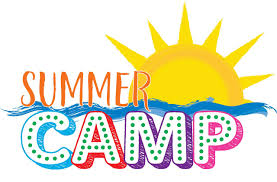 Every Sunday at the 10:45 service, we will have a special blessing for our young people as they head off to various summer camps.
If your child will be attending Camp Capers, please let us know their name(s) and what session they are attending. In addition to a blessing during the church service, St. George will send a letter to them while they are at camp. Please email hwilson@saintgeorgechurch.org with your information.