Our children from ages 2 to fifth grade enjoy age focused worship during the 10:45 AM worship service on Sundays.
We have four age-based groups
Nursery (ages 2-3)
Kinder Chapel for 4 year olds and kindergartners.
Children's Chapel for 1st and 2nd graders
Kids For Christ Chapel for 3rd-5th graders
Our curriculum is:
Lectionary Based-Offering an engaging and fun way for our kids to hear the same stories that are being told during our regular worship.
Bible Centered-Ensuring that our children interact with the Bible in every lesson.
Interactive-Children engage in the lesson through interactive games and creative crafts for a fun and exciting learning experience.
Leader Friendly-Leaders are provided with easy to use leader packs that walk you through each lesson. There is no training needed, allowing volunteers to get involved.  In addition, the lesson preparation is minimal.
Age-Appropriate-The lessons are tailored to specific age groups, yet all the children will learn the same story on the same day, in a version appropriate and interesting to them.
Kids for Christ (3rd – 5th Grade)
Kids for Christ (KFC) was inspired by Proverbs 22:15, "Train up a child in the way he should go; even when he is old he will not depart from it."
KFC Service meets monthly, alternating between interactive and fun faith-based formation, exciting fellowship activities, and service opportunities where each child will participate in a community outreach project or event. We welcome all children from third-fifth grade to join the fun and to bring a friend! Please see the calendar for the next meeting.
KFC Chapel is our newest weekly offering to the Kids for Christ program and is an active curriculum based offering during the children's chapel time of our 10:45am service.  As with our other children's chapel offerings it is a bible based, leader friendly, highly interactive and age appropriate weekly offering for this age group.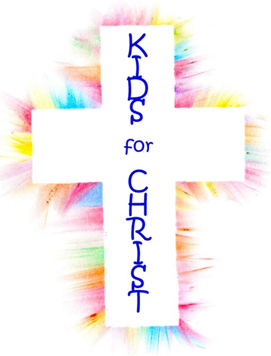 C 3:16 Family Formation (All Families)
"Let the message about Christ completely fill your lives, while you use all your wisdom to teach and instruct each other. With thankful hearts, sing psalms, hymns, and spiritual songs to God. ~Colossians 3:16
C 3:16 is an opportunity for the whole family to enjoy fun and fellowship at 10:00 AM on Sundays. We begin with a breakfast we provide. We enjoy singing some songs and then we hear a short lesson that relates to our scripture readings for the week. Then each family does a craft project that relates to the day's lesson that they can take home to enjoy. We end at 10:30 AM to enable you to join the 10:45 worship in the sanctuary.