Welcome Home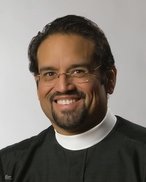 Grace to you and peace from God our Father and the Lord Jesus Christ.

Welcome to our website. You might notice that there are a good many things happening in the St. George Community. One long-time member of the community said to me about all the activity these words: "It's like God is growing new spring flowers all around us to change the landscape of our life." Indeed. God's Spirit is very much at work in the people of this place as we busily pray, plan, and work towards a hopeful future.

I invite you to peruse this website and learn more about who we are – and how God is shaping us. Please know that you will be warmly welcomed as you arrive for Sunday morning worship. You will have opportunities to connect with others who are also seeking to grow in their knowledge and love of the Lord. You will be able to find a meaningful way to experience the generous love of God as a fellow traveler on the spiritual path.

Come and see what God is doing in this place. Come and learn how God wants to move in your life. Come and let God grow in you some new spring flowers that will change the landscape of your life.

Faithfully,
Ram Lopez+
Rector
News & Happenings...

"She opens her mouth with wisdom, the teaching of kindness is on her tongue." -Proverbs 31:26 All across the globe, the bond between women and their children touches our hearts. The Diocese of West Texas and St. George celebrates Mother's Day with a special offering honoring mothers and other women who have influenced our lives in a special way. The offering helps women and children, trapped in poverty around the world, find a way to …Click to Read More

The St. George Youth Group is flocking like flamingos to raise money for Larkspur Elementary's summer programs, and you can help! Follow the simple guidelines below and you can 'flock' your friends to support our Youth. Join the fun: Givin' the Bird - $10 Point the flamingos where you want them to go! For $10, the Youth Group will have the flamingos take over any yard of your choice. Bye, Bye Birdie - $20 If you get flocked, it …Click to Read More
As a participant in the Rector's Bookshelf Book Study that read Keeping the Feast
'Like' Us on Facebook
Posted: May 22
episcopaldigitalnetwork.com
[Episcopal Diocese of Texas] More than 3500 members of churches in the Diocese of Texas and the Diocese of West Texas gathered in homes last Thursday, May 16, to share a meal and share stories of their faith. Episcopalians across Texas came together in groups of eight to 12, and engaged in a faith c...
| | |
| --- | --- |
| | 0 comment |
| | |
| --- | --- |
| | 2 likes |