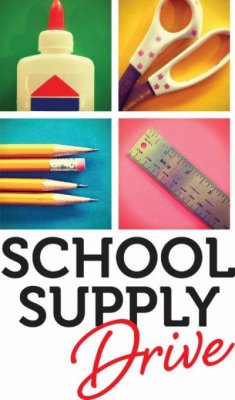 July is our opportunity to bring backpacks and school supplies for children who will not have these items for the beginning of school. Eight churches in our area, called the Convening of Churches, partner to provide these children with the tools they need to help them be successful as they start school. Children from elementary schools, middle schools, and high schools in our area will benefit from these donations. (Note: Middle School and High School require clear backpacks). One of the main elementary schools that benefit from this is Larkspur, which is the school that St. George supports.
Please bring backpacks and school supplies on Sundays, or drop them off at the Leadership Center between 9:00 AM and 1:00 PM during the week. Click here to view the supply list. If you would rather donate money to purchase these items, please be sure to put "Backpacks" on the memo line of your check or online donation. It costs an average of $40 to $45 per student to furnish a completed backpack. In past years the Convening of churches packed 1,000 backpacks.
All of the backpacks and school supplies donated from St. George, along with all backpacks and supplies donated from the other 8 churches of the Convening, will be taken to Coker United Methodist Church, and on Monday, August 5, and Tuesday, August 6, we will sort and pack. Volunteers are needed for all of these dates. This is a great "family" activity. Please consider helping. It is a very rewarding experience!
For questions, please contact Julabeth Carden, kittylady46@yahoo.com or 210-365-6377.